Size Guide
New to the eyewear world and looking for your perfect fit? The most important measurement to know is your frame width, as that's what we base all our sizes on at EyeBuyDirect.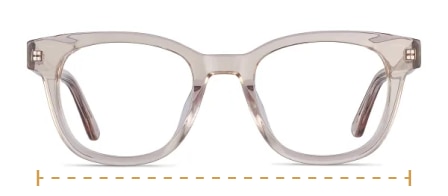 If you've already got a pair of glasses that fit, you can measure from screw to screw. This complete measurement would be your ideal frame width.
But remember, all glasses are different, so it's just a general ballpark to have in mind.
Other useful measurements

Temple (arm) length
The temple should fit evenly and horizontally along the side of your head and rest comfortably on your ear.

Bridge width
The bridge should sit nicely above your nose. For close-set eyes, the ideal length is shorter, while for wide-set eyes, it will be longer.
All frame measurements can be found in the details tab on our product pages.
For more help finding your perfect pair of glasses, see our complete Size Guide.